ZH2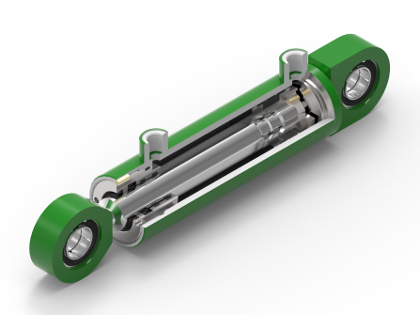 TECHNICAL DESCRIPTION – PRODUCT FUNCTION
ZH2 is double-acting hydraulic cylinder. Linear hydraulic motor is basically an element that converts the pressure energy to the mechanical energy – to the axial power of the piston rod in both directions. They have – by their construction – no special demands for service and maintenance, but it is necessary to obey the service and technical conditions for perfect and secure function of the motor.
Hydraulic cylinder ZH2 is suitable for higher pressure load and harder work conditions, but just like the ZH1 type is not suited for especially high workcycle load. If the cylinder should work with higher number of workcycles and in a multi-shift workplace, we recommend mounted version, such as ISO6022, ISO6020, or atypical construction. Our technicians will always gladly help you to choose the most suitable solution.
Cylinders are normally made with "eye-eye" mounting, but they can be equipped with flanges, pivots, feet, or atypical mounting. All informations on mounting and dimensions can be found in the product catalog.
With requests about other (nonstadard) types of mounting please contact our technicans via phone or contact form.
Technical parameters
Rated pressure

– 20 MPa

Maximum pressure

– 25 MPa

Test pressure

– 32 MPa

Work liquid
– hydraulic mineral oil (OH-HM 32, OH-HM 46, OH-HM 64)
Required filtration
– min. 40 μm, we recommend 25 μm
Temperature scope
– liquid -20°C ÷ +80°C
– ambient -20°C ÷ +70°C
Climatic stability
– temperate climate WT
Work speed
– maximum 0,5 m/s
Piston rod resistance value
in the salt chamber pursuant to ISO 4540
– 120 hours
Contact form